4 Things You Can Gift Your Siblings!
Gifts are essentials and finding the perfect gift for that person who is always important but showing that feeling to them is difficult. Our siblings have always been the closest people, no matter how much we quarrel or fight for hours for a small toffee or pakora. These furious beings never let our lives be boring, a fun adventure always awaited our ways during the 90s.
Even when some uncle aunty visited, the achhe snacks wali ladai, chai banane wali ladai, or the huge one - paise division was eternally there!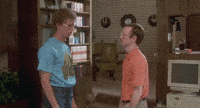 That feeling to give them something nice is rare, and when that feeling finally touches our hearts, let's make it worth it!
The 90s character Sock Sets -
Nothing can be better than the gifts relating to your Bachpan ke din! Adding some perks of 90s moments with some lively socks that they can never skip to use can rock your gift! This gift will fit perfectly to make up for those huge fights and make our siblings the biggest enemies.
Thinking for them is sweet and going with this category will be a smart move! These essentials could be their favorite 90s cartoon characters with bright colors on sets of socks! Gift Now!
 The 90s themed Boxer Shorts!
Is comfort everything for your behen/Bhai too? Making them loved by conveying how their strange home outfits make you feel home could be the most amazing gift!
Gift them some quirky boxer shorts made with 100% combed cotton material and LIT colors. They are not going to thank you, but you will surely love the happy feeling on their face while wearing your present.
Is there anything better than 90s rockstars - tom and jerry essentials?
In no time can you go back to those days when you troubled their sleep! Gift your siblings something that will surely take them back to those days and spread the laughter you miss. Colorful eye masks that they love or even hate our best to give them back their sleep!
Surprise them with something cute and soothing for the days when they covered for you! The rare times when they took your side in an argument were worth celebrating, so let's shower all the love on Rakhi!
Combos with colorful goodies that are always relatable to your times when they kicked you for no reason or pulled your hair for legit reasons. The deals of bringing that glass of water which was due last time were very serious, just lacking the paperwork. Missing moments are all the more reasons to give them annoying faces who woke us up in the morning in every way that we hated. 
Those disasters that you all did together are precious and just can not be overlooked, they deserve all the huge hampers filled with excitement.
Rakshabandhan has a lot of gift choices, you just have to know what would bring a real smile to their faces. New rituals of gifting both ways have come up, so clicking with the 90s theme and packaging will add more fun to your festival!
Let this day be all about the masti and dhamaka of childhood at home, be it mummy ke pyaar ki ladai ya papa ki di hui toffee ki ladai, there will be a lot to discuss!
Share with us which gift you picked for your bhai/behen!
---